After making my pumpkin bread yesterday, I had some leftover pumpkin to use up. I decided to make a pumpkin roll . I used the Libby recipe, which you can find
here.
These rolled cakes are extremely intimidating to many people. I know they were to me until I made my first one.
At the start of the recipe it says, "sprinkle towel with powdered sugar." That's about the point where novices say, "Huh??? Towel? What towel?" and move on to a different recipe.
So I thought I would just photograph some of the steps in hopes that it will help someone who has been afraid to try making a pumpkin cake roll.
The recipe says to line your jelly roll pan with waxed paper. I used parchment paper, but either way, make sure to have the paper overhang the edges like this: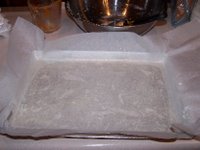 The reason? So you can use the extra paper as handles to pick up the cake later.
You will need a clean dish towel. Here's a tip: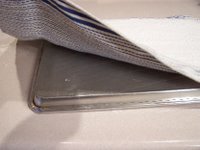 Lay a large baking sheet under the towel. This will help when you need to turn the hot cake onto it When it says to sprinkle the towel with powdered sugar, don't skimp. You need it well covered so the cake won't stick..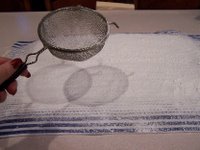 Make sure you spread the batter as evenly as possible. An offset spatula works nicely for this.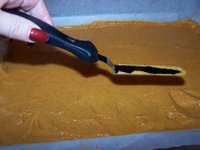 If you don't have an offset spatula, just use a butter knife. You may want to ask Santa to stick one of those little spatulas in your stocking. That's how I got mine. :)
After your cake is cooked (by the way I had to cook about 5 minutes longer that the 15 minutes the recipe stated), you need to immediately turn it out onto the powdered sugar towel. This is where it helps if you have put the towel on top of a baking sheet. If you did, then you can pick the towel-covered sheet up to meet the hot cake. So much easier than trying to flop it out and have it remain in one piece. Take it from one who has broken a few cakes before I started using the extra pan.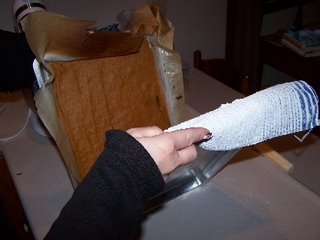 Remove the paper. Beautiful! No breaks.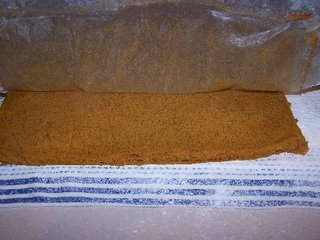 Now the part that scares everyone. Start rolling it up from the short end. Yes, do this when it is HOT. You do not let it cool at all. Why? Because if it cools, it will break when you roll it.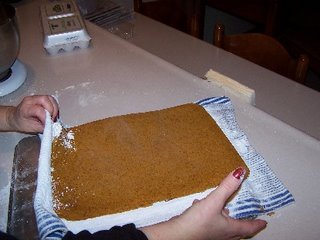 You roll it right up, towel and all. Use both hands and exert equal pressure. Mine was not quite equal. You can see that the slice turned out a little oblong not round. Not a big deal, but I would prefer it more round.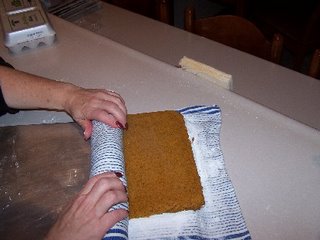 Phew! You will feel so good when you get to this part. It's all rolled up and now has to cool for about an hour.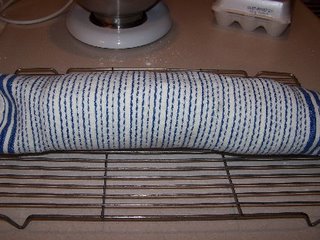 You will make the filling while it cools. Once cool, you will unroll it, spread the cream cheese filling and roll it back up WITHOUT THE TOWEL. It will be easy to roll back up because you set the shape by rolling it up hot. Don't be too alarmed if you have a few cracks. Just roll it back up anyway and serve it already sliced rather than in the full roll (you won't see the cracks once you turn the slice on its side).
I stopped taking pics at this point because it's the exact same procedure and I knew Blogger would only let me post so many pictures. You roll it up just like when it was hot, except you now have cream cheese filling and no towel.
The towel will be a big sticky mess, so make sure to rinse it out well before you toss it in the laundry.
I will be very pleased if these directions helped someone to try a pumpkin roll this holiday season!
It's one of those desserts that looks much more difficult to make than it really is. No need to tell everyone that...just smile pretty and accept all the compliments.